Supported living
Supported living people for with learning disabilities, Autism, and assessed needs empowers people to live independently in their community and achieve their goals. By focusing on personalised support, we actively find opportunities and build on strengths.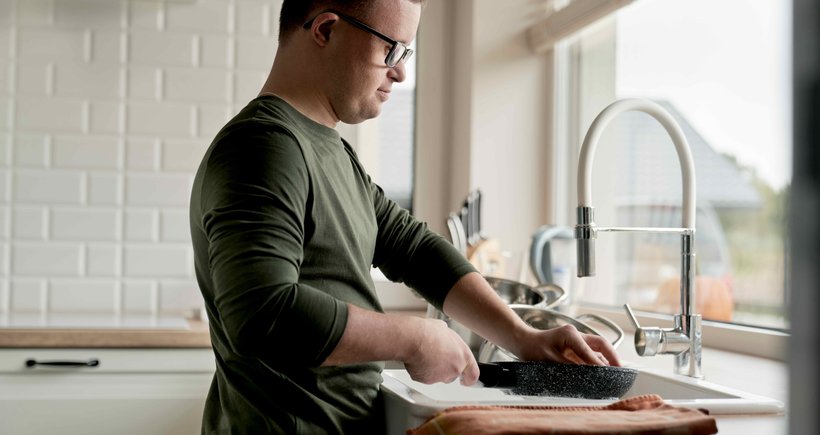 What is supported living?

Supported living is a way of providing support that allows people to live independently in their own homes or in shared accommodations. It's all about empowering people to have control over their own lives.
We understand that everyone's needs are unique, which is why our support ranges from just a few hours a day to round-the-clock care for people with more complex needs.
In supported living, people have the freedom to choose whether they'd like to share support with others or have individual support tailored just for them.
People are empowered to:
Choose who they want to live with, who's invited into their home, and who provides their support.
Live with the security of tenure, with the peace of mind that comes from having your own keys.

Become more independent in their daily lives. From paying bills to planning and preparing meals, every person is supported in their choices.
Our dedicated staff don't have an office or designated space within the property, except for the occasional overnight sleep-in when needed.
How does supported living work?

Supported living starts with understanding each person's unique needs, preferences, and desires. Professionals, family members, and the person to be supported work together to create a comprehensive support plan that guides the support Affinity Trust provides.
We also work with local authorities and housing partners to help people find suitable accommodation. Whether it's their own home or a shared living situation, everyone deserves a safe and comfortable place to call their own.
Support is personalised and may include help with personal care, managing household tasks, accessing healthcare and social activities, and assistance with money management. Regular reviews ensure that the support plan remains up-to-date and in line with changing needs and goals.
Benefits of supported living
Supported living offers a range of benefits for people with assessed needs by promoting overall well-being and enhancing quality of life.
Together, we work together to help achieve:
Independence: Supported living gives people the freedom to make their own decisions and choices.
Inclusion in the Community: Through supported living, people are encouraged to be a part of their community, and build relationships and connections.
Continuity of Support: Supported living provides ongoing support for as long as it is needed, ensuring consistency and stability in people's lives.

My support worker always listens to me and I am always given options of what I would like to do. I feel safe and comfortable and am looked after well.